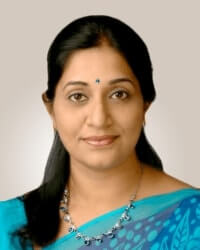 Dr M N V Pallavi
MS, MRCOG
Chief Consultant Obstetrician & Gynaecologist
BIO
Dr M N V Pallavi did her MBBS from Andhra Medical College and was the recipient of all the awards and gold medals that were instituted for academic excellence. She passed out of her Medical college as the Best Outgoing student. She completed her post-graduation in Obstetrics and Gynaecology (MS OB/GYN) from the prestigious Kasturba Medical College, Manipal. She worked at Bombay Hospital, Mumbai under the legendary Dr Pai Dungat and learnt vaginal reconstructive surgery. She also worked in TATA Memorial Hospital, Mumbai, in the department of gynaecology, being the only gynaecologist in this city to do so. She received advanced training in laparoscopic surgery from the famous Pauls Hospital, Cochin.
She is a new generation consultant and one of the best gynaecologists in Vizag, with a vast experience in handling regular gynaecology and obstetric cases. Her area of strength is the latest laparoscopic surgery in her field. She is known for handling high-risk pregnancies and cases of urogynaecology. She has earned the trust of patients from Vizag city, districts of Visakhapatnam, Srikakulam, Vizianagaram, East Godavari, Odisha, Chattisgarh and Jharkhand. She deals with all women issues and menstruation problems and is the best maternity doctor too.
She is a regular speaker at various academic fora and a regular attendee of local, national and international conferences of her speciality to sharpen her clinical and academic skills.
Dr Pallavi is excited by a field that allows her to care for women throughout all aspects of their lives from adolescence to menopause. Establishing patient-centred care has always been her priority. Her practice includes everything from routine preventive care to pregnancy management and gynaecologic surgeries, including minimally invasive techniques. Having worked in diverse communities throughout her training, she finds great satisfaction in practising in Visakhapatnam, caring for patients from a variety of different backgrounds and places like Odisha and Chhattisgarh.